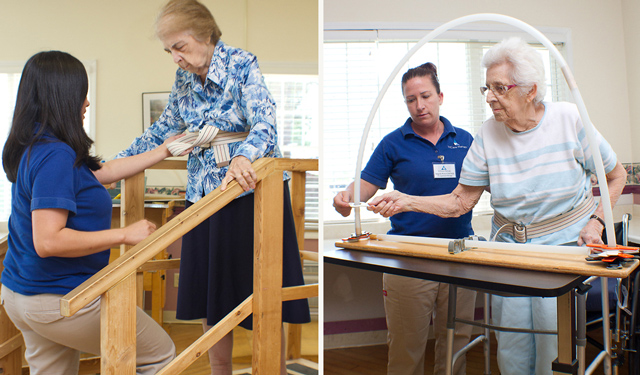 Generations at Applewood offers an occupational therapy program that assists residents in becoming self-reliant in activities of daily living. This might include dressing, personal grooming, eating, and more.
What is Occupational Therapy?
The goal of an occupational therapist is not only to help clients improve basic motor functions and cognitive and emotional abilities to return to their roles but also to compensate for loss of function. The occupational therapist's goal is to help clients have independent, productive and satisfying lives. Occupational therapy practitioners are skilled professionals whose education includes the study of human growth and development with specific emphasis on the social, emotional, and physiological effects of illness and injury.
Who Should Participate in Occupational Therapy?
Seniors who are struggling to perform activities of daily living would benefit from occupational therapy.
Why Choose Generations at Applewood for Occupational Therapy?
Generations at Applewood offers comprehensive occupational therapy and rehabilitation. Our highly trained, professional staff provides an individualized care plan that promotes a return to independence and home. Our program is provided by an experienced staff that focuses on individualized needs as directed by each resident's primary physician. Everyone works together as a team to help accelerate your recovery. Occupational therapists work to maximize independence in:
Dressing and Grooming
Eating
Bathing and Toileting
Homemaking
Splinting
Home Assessments and Modifications
Community Reintegration
Adaptive Equipment
Our Interdisciplinary Team
At Generations at Applewood, our clinical care staff works with a team of experienced healthcare professionals including:
Physicians
Nurse Practitioners
Occupational Therapists
The interdisciplinary team designs a customized program based on your personal health goals, followed by ongoing support for a successful outcome